Beach and desert are the main tourist attractions that make Iquique and the Tarapacá Region an unmissable destination to visit during your vacations.
If you are looking for activities to enjoy in the first region, in Faro Travel we will tell you which are the best tourist places in the north of Chile so that you can get to know them on your next trip.
Where's Iquique?
Iquique is the capital of the Tarapacá Region, located in the middle of the Atacama Desert. If you feel like visiting the north of Chile, you will undoubtedly be captivated by its combination of coast and high plateau.
How to get to Iquique?
By air: take a flight to Diego Aracena International Airport in Iquique. If you want to visit other towns in the altiplano you have to take a bus, private transfer or private car.
By land: from Santiago you can take a bus to the Iquique terminal. You can also go by car entering the city by the Pan-American Highway.
What is the weather like in Iquique?
The climate in Iquique is desert with homogeneous temperatures on the coast. The average maximum temperature is 24.4°C and the minimum is 12.5°C. Rainfall is scarce but there is abundant coastal cloudiness and even the presence of camanchaca or intense fog during the "Bolivian winter", which is in the summer months.
When to go to Iquique?
The best time to visit Iquique is practically all year round due to its excellent climate. If you want to avoid the big crowds, we recommend you to visit it in low season, which would be in the months of March to May and September to November.
Where to eat?
If you visit the Tarapacá Region, you should take advantage of its gastronomy centred on seafood. It also has a great variety of exotic fruits such as mangos, guavas and the classic lemons of Pica. Don't miss a delicious pisco sour de pica!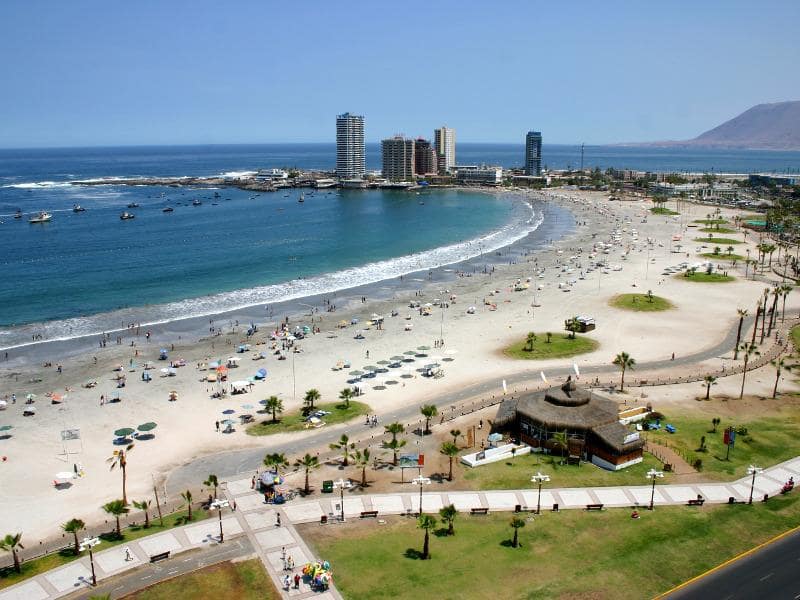 For candy fans, try chumbeque, a typical northern candy made of flour, butter and layers of jam and pululos, which are a kind of puffed rice. You can also try the variety of cereals that exist in the area such as quinoa.
Where to sleep?
The offer of accommodation in Iquique and its surroundings is very varied and for all pockets. You will find hostels, hotels and cabins to travel with your family. However, the important thing is that in high season bookings with time because they run out quickly, especially in other towns because there are fewer options.
What to do in Iquique and its surroundings?
The panoramas to visit in Iquique and its surroundings are varied and for all tastes and ages. At Faro Travel we have put together a small tourist guide with its main tourist attractions to encourage you to tour the city and its surroundings in the Tarapacá Region.
Iquique
Iquique is known as the "Land of Champions" and if you visit northern Chile, you can't miss the capital of the Tarapacá Region. Thanks to the winds that predominate in this sector, you can practice paragliding 365 days a year and enjoy the views of Iquique from the heights.
If you prefer nautical sports, you can practice surfing at Cavancha beach and if you like adventure on land, sandboarding in the dunes of Cerro Dragón has also become a must if you are in the city.
You can not leave Iquique without going to the famous Mall Zofri or Zona Franca, which is free of tax and you will find one or another gift that you will find at very convenient prices. We especially recommend you to see electronic products (cameras and cell phones for example), alcoholic beverages and perfumes because they are the cheapest you will find compared to conventional prices.
We forbid you to leave the city without visiting the historic district of Iquique and especially Paseo Baquedano, where you can drink a delicious mango juice or taste a classic chumbeque. You will feel as if you were living in the era of the saltpeter boom with the facades of its buildings.
Besides, in this place you can take a boat to visit one of its great tourist attractions that is where the Corbeta Esmeralda sank, the Chilean icon of the Pacific War, which rests on the seabed, a few meters deep, for almost 140 years. You can see the replica of this one – converted into the Corbeta Emerald Museum – on the coast. And, of course, take the classic photograph!